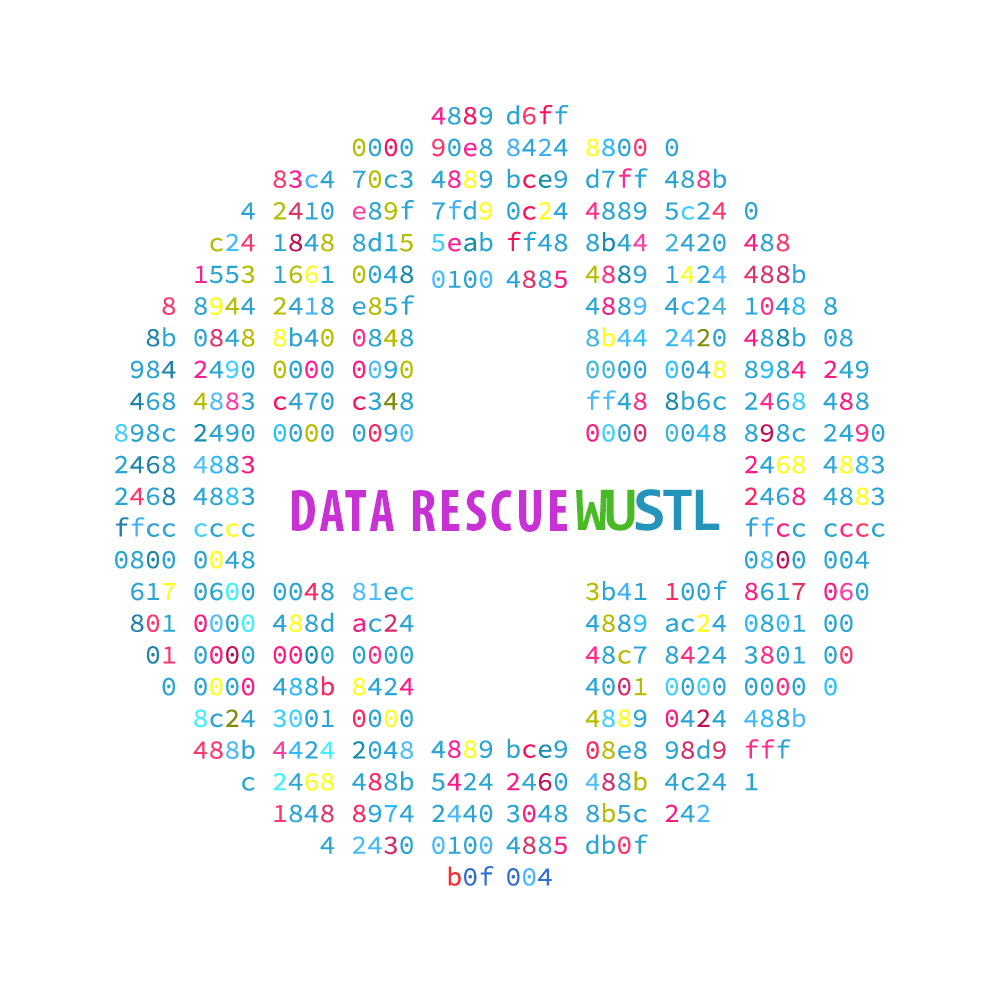 DataRescue WUSTL
April 14, 2017 at Washington University in St. Louis
#DataRescueWU is an opportunity for programmers, scientists, archivists, activists, and volunteers of all kinds to identify, back-up, and help preserve publicly accessible federal data resources in the public interest.
Join us for a day of civic technology and citizen archiving, at a time when scientific research in the public interest is increasingly at risk.
Registration is now open for the April 14 event (Register). Please follow us on social media for more info.
Join us
Register today to participate! While the event will take place in a computer lab, if you have a laptop, please bring it to work on.
And use the hashtag #DataRescueWU to join the conversation :)
What
The U.S. federal government hosts a multitide of datasets, mainly through executive branch agencies like the EPA, NASA, NOAA, the Department of Energy, and the Department of the Interior. Recently, many in the federal government at a variety of levels have communicated their antagonism toward the scientists, researchers, and civil servants who study and inform the public about a wide variety of topics. The federal government has already moved to expunge information related to climate change from whitehouse.gov and introduced legislation to abolish the EPA. We seek to protect vital public scientific and data resources from suppression by archiving them in multiple, redundant repositories so they may be accessed and reused after potentially disappearing.
This video from Vice News gives a great overview of the DataRescue effort:

Stay tuned for info on specific data sources we'll be targeting. And please get in touch if you're familiar with any vulnerable data sources.
When
We will be working 9AM-4:30PM on Friday, April 14, 2017.
| | | |
| --- | --- | --- |
| Time | Activity | Location |
| 09:00 | Doors open, introduction | Rudolph Hall 308 |
| 09:30 | Morning work | Rudolph Hall 308 |
| 12:30 | Lunch | Rudolph Hall 308 |
| 1:30 | Afternoon work | Rudolph Hall 308 |
| 4:30 | Wrap-up | Rudolph Hall 308 |
Where
The main location is the GIS Classroom (room 308), inside Rudolph Hall on the Washington University in St. Louis campus. We will also be using the Earth and Planetary Sciences Library and GIS Lab as necessary.
Code of Conduct
Welcome everyone! Please read this Code of Conduct, and if you have any questions, ask an event organizer!
This is a harassment-free environment for everyone, regardless of gender, gender identity and expression, sexual orientation, disability, physical appearance, body size, race, age or religion or technical skill level. We do not tolerate harassment of participants in any form. Harassment includes verbal comments that reinforce social structures of domination related to gender, gender identity and expression, sexual orientation, disability, physical appearance, body size, race, age, religion, sexual images in public spaces, deliberate intimidation, stalking, following, harassing photography or recording, sustained disruption of talks or other events, inappropriate physical contact, and unwelcome sexual attention. Participants asked to stop any harassing behavior are expected to comply immediately.
If a participant engages in harassing behaviour, the organizers may take any action they deem appropriate, including warning the offender or expulsion from events and online forums. If you are being harassed, notice that someone else is being harassed, or have any other concerns, please contact a member of the organizing team immediately.
Organizers will be happy to help participants contact local law enforcement, provide escorts, or otherwise assist those experiencing harassment to feel safe for the duration of the event. We value your participation!
This document is based on a similar code from Civic Tech Toronto, itself derived from the Recurse Center's Social Rules, and the anti-harassment policy from the Geek Feminism Wiki. This work is licensed under the Creative Commons Attribution-ShareAlike 4.0 International License.
DataRescue WUSTL 2017 is part of the Environmental Data and Governance Initiative (EDGI), in partnership with the DataRefuge project and the End of Term Presidential Harvest from the Internet Archive. We are grateful to University Libraries for providing space.
The people helping organize this event include (in alphabetical order):
Aaron Addison, Director, Collaborative Research, Data/GIS
Barb Hofmann, Government Documents Specialist
Jim Hone, Film & Media Archivist
Cynthia Hudson-Vitale, Data Services Coordinator
Deb Katz, Jewish & Near Eastern Studies Librarian
Jessica Kleekamp, Social Sciences Librarian
Tove Kloving, Lecturer in Law & Government Documents Librarian
Ryuta Komaki, Japanese Studies Librarian
Jennifer Moore, GIS & Data Projects Manager
Karen Olson, Technical Services Assistant, Music
AJ Robinson, Islamic Studies Librarian
Cindy Traub, Data Specialist
Ryan Wallace, Earth & Planetary Sciences Assistant
Mollie Webb, GIS Programmer
Outside the St. Louis area? Check here and here for sister events in your area.
Want to volunteer, sponsor the event, or host a parallel event elsewhere in the St. Louis area? We'd love to hear from you! Contact us at datarescuewu@gmail.com.